"You can't improvise digital teaching." Dawn Neely Randall, Grade 5 teacher, Elyria, OH.
Our teachers are stretched beyond human limits. Attached please find (shared with permission) a Facebook post by our longtime friend, 30+ year teaching veteran, and spokesperson for kids and teachers in OH, Dawn Neely Randall. 
We stand with teachers and want you to know that RWS will help take some of the burdens off, not add to your day-to-day requirements, as well as help you engage students. We know you don't have time for another in-depth training session!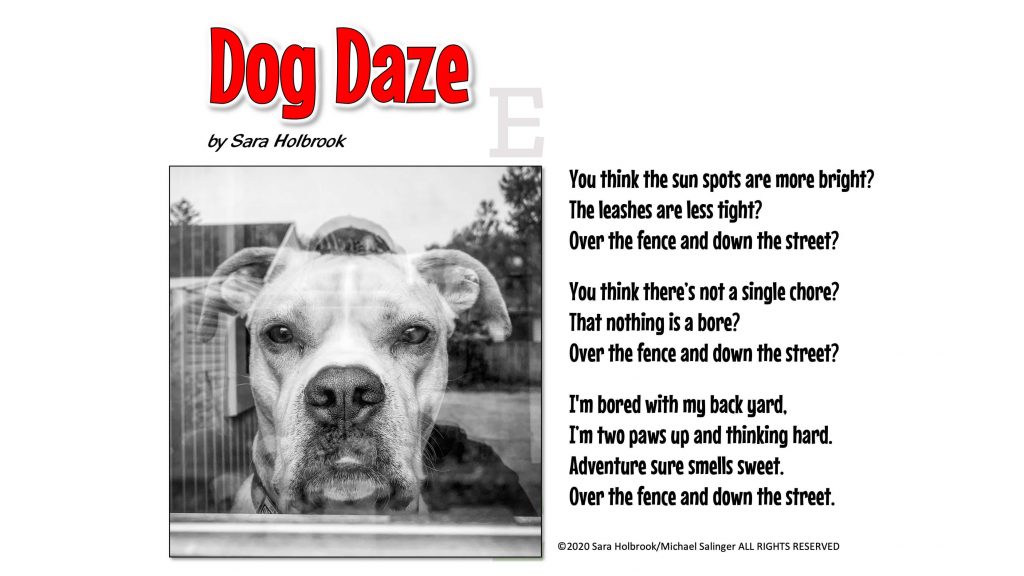 Of course, teachers aren't the only ones stressed out by the current learning challenges, kids are also feeling worried, anxious, isolated and beset with a myriad of other feelings both school and family related. Some are dealing with intense grief. Never has there been a time more critical to engage teachers and students in social emotional reflections!
While these reflections may develop organically in a classroom discussion, digital teaching requires pre-planning. Here is how RWS gently guides students to reflect on their own feelings while making a personal connection with the poem, "Dog Daze" (entire free lesson here). After introducing the poem on Monday and engaging in rereading and clarifying overall meaning and discussing the vocabulary in the poem on Tuesday, it would be time for a social emotional reflection on Wed.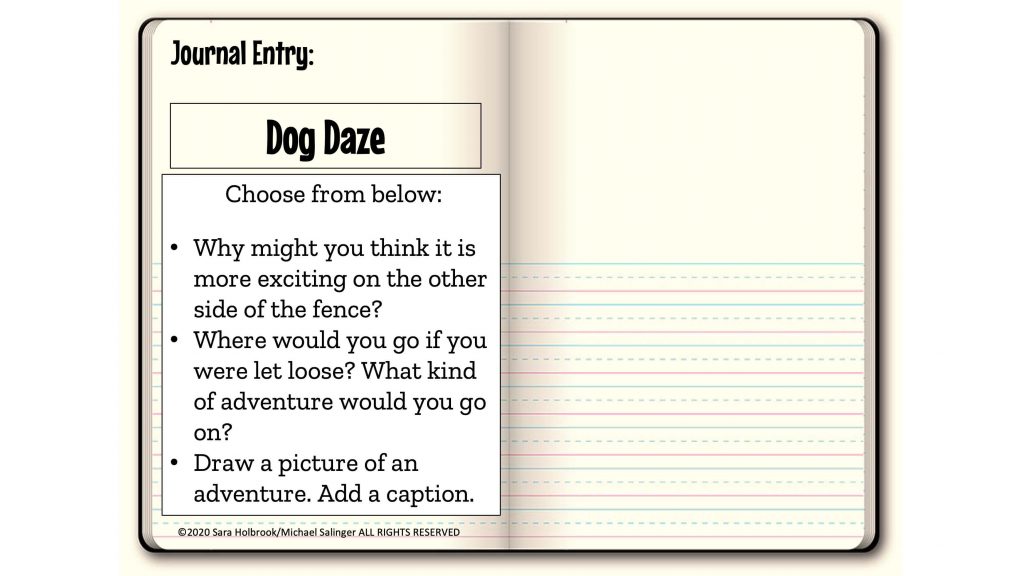 We always give students a couple of prompts that they may wish to use. If they can find a better personal connection, we excitedly encourage them to do so. We tell kids, these prompts are to get them started, not to hold them back!
Ask students to write in their personal journals for 4-5 minutes. These can either be notebook journals, or if students are working online, we suggest using Google slides to maintain a journal. It is easy that way to share a single page and to pull in illustrations. We urge teachers not to ask students to achieve a certain word or sentence limit as this is daunting for striving writers and can cause kids to give up. We want to keep everyone engaged.
The lesson plan for "Dog Daze" (Primary Level 3) is brief and provides guided student choice. You may wish to put students into pairs in the classroom or in breakout rooms so they can discuss word choice with their writing partners. We would also encourage teachers to write with their students.
Wednesday is journaling day
Social-emotional learning lesson: Journal entry about 4-5 minutes. Students may choose from
below:
Why might you think it is more exciting on the other side of the fence?
Where would you go if you were let loose? What kind of adventure would you go on?
Draw a picture of an adventure. Add a caption.
After writing, ask students to read their writing aloud. Some options:

everyone reads aloud at the same time (a seat symphony)
read one line of their writing aloud
read what they have written to a partner
Sharing is when we begin to make personal connections with our fellow humans, but this can be challenging for some students and it's a good idea to do some scaffolding. Try this:
Ask everyone to read what they have written aloud at the same time. We call that a seat symphony. It provides students the opportunity to test out their words and sentence structure aloud, but in relative anonymity as everyone is talking at the same time. Note that students will make corrections based on this initial reading. GOOD!
Ask students to share with a partner. If there is resistance, ask students to choose their favorite line and just share that. Remind students to make a comment on what their partner shared (I get that, I have felt that way, I can see where you are going, like that).
Ask for an enthusiastic volunteer to share. One classroom trick we use is to identify an enthusiastic volunteer (making a little joke about the enthusiasm part of it) and after that student reads, to ask that student to choose the next enthusiastic volunteer.
What if I don't want to share? Some students will ask. Remember, one of our goals is to get students talking and communicating, so not sharing anything doesn't help us reach our goal. Revert back to the suggestion that students share their favorite line or phrase from their writing or answer the question, "in general, what did you write about?" (I made a family connection, friend or personal reflection). The goal is to keep students engaged in conversation.
Why do I have to share?
We feel strongly that we are not doing students any favor when we give them a pass during sharing time. We never say, "You're too shy to read? Only read if you want to," or "You're too shy to write? Only write if you want to." But we hear this in classrooms all the time when it comes to sharing. We need to engage all kids in authentic conversation. If students ask why, we remind them that no one else is going to take a job or college interview for them, every person must learn to speak for themselves. However, we do not pressure students to read their entire social emotional journal entry if they choose not to. Just a phrase or a reflection on their writing process will be enough to keep them in the conversation.
One of the main benefits of sharing is that as a writing community, we find that we always have more in common than we ever imagined. This discovery can be a lifeline for students (and teachers) who are navigating what can only be described as a very tough year.